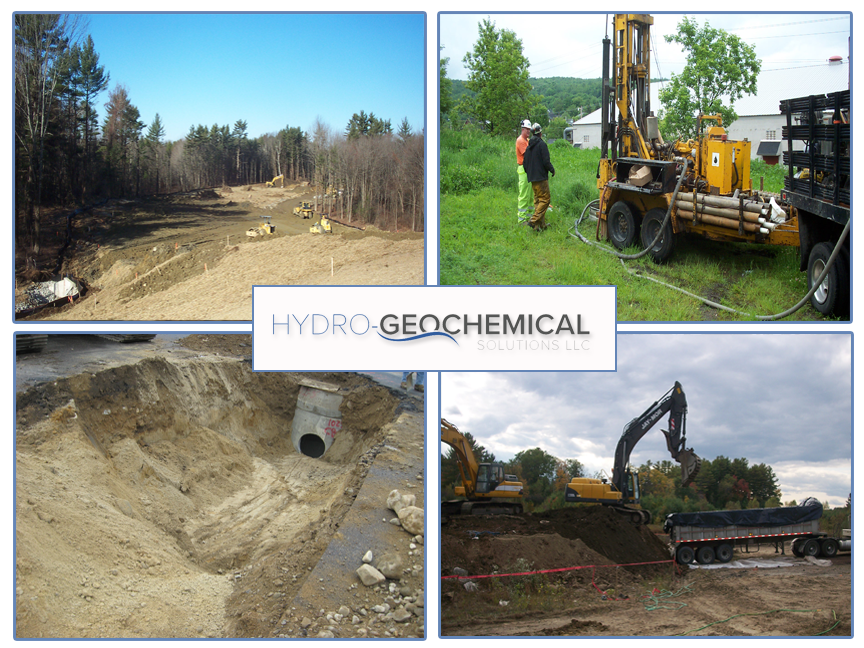 Geochemical Assessments
Hydro-GeoChemical has experience in performing geochemical assessments including forensic, monitored natural attenuation, and isotopic assessments.
• Forensic Assessments – provided opinions regarding the extent and source of contamination, probable migration pathways, date and timing of contaminant release based on chemical fingerprinting and other forensics techniques, feasible remediation alternatives for impacted properties, and identified Potentially Responsible Parties (PRPs). Projects were located in New Hampshire, Massachusetts, and California and included municipalities, utility companies, law firms, and oil companies.
• Monitored Natural Attenuation (MNA) Assessments – provided opinions regarding the extent and source of contamination, probable migration pathways, and whether MNA was a feasible remediation alternative for the impacted properties. Modeled plume configuration and contaminant degradation rates using BIOSCREEN, BIOCHLOR, BIOPLUME III, and SEQUENCE (Natural Attenuation Groundwater Models) to illustrate and support natural attenuation. Projects were located in New Hampshire, Massachusetts, Ohio, Arizona, Indiana, and Iowa and included commercial and industrial manufacturing facilities, defense contractors, and regulatory agencies.
• Solid Waste and Ash Landfills – performed geochemical evaluations to determine the source of groundwater contamination (metals and organic leachate parameters). Evaluated groundwater and surface water quality to determine whether contamination was from the historic unlined solid waste landfill or a the lined ash landfill. Activities included an extensive review of historical analytical results and hydrogeological data; installing monitoring wells, collecting environmental samples for chemical analyses; creating a database for the landfill (chemical results); and evaluating contaminant trends. Contaminant trend analysis was performed using Stiff and Piper Diagrams and geochemical modeling (AquaChem).
• Hydrogeological Investigations and Geochemical Assessment – performed field investigation activities and data assessment to assess the geology, hydrology, and chemistry of the current and future status of brine reservoirs at the site. Activities included: 1) deepening existing boreholes to a depth of approximately 4,000 feet below grade to obtain geologic information on the reservoir rock; 2) supervising and reviewing geophysical logs to identify fracture zones and brine within the salt deposit; 3) collecting hydrologic data during reservoir tests in the boreholes (drill stem testing, flow and pressure build-up tests, and pressure measurements); 4) collecting reservoir rock (salt), brine, and gas samples for chemical and isotopic characterization (brines and gases); mineralogical, elemental, and isotopic characterization of the reservoir rock; and evaluation of the chemical equilibrium of the brine, gas, and reservoir rock; 5) analyzing brine and water samples in the field for major cation and anions and total dissolved solids; and 6) preparing ternary diagrams (ionic compositions of the brines) for comparison of the groundwater, calculating ionic ratios to characterize and evaluate the geochemical evolution and origin of the brine and groundwater, comparing data to sea water evaporation curves, classifying the brine based on water type, and preparing tables, diagrams and figures comparing the chemical and isotopic composition of the brines and gases. Project was conducted for the Department of Energy at the Waste Isolation Pilot Project in Carlsbad, New Mexico.
• Light Non-Aqueous Phase Liquid (NAPL) Assessments – provided opinions and performed NAPL assessments at properties contaminated with petroleum products. Assessments were performed in accordance with Massachusetts Department of Environmental Protection (MassDEP), Interstate Technology & Regulatory Council (ITRC), American Petroleum Institute (API), and ASTM International guidance documents. Work activities included the advancement of soil borings and monitoring well; collection of soil, groundwater and NAPL samples for chemical analysis; data evaluation; gauging monitoring wells for water level elevation and LNAPL thickness; collecting LNAPL samples for viscosity and density analysis; collecting soil samples for physical soil parameters; performing hydraulic conductivity testing: and data evaluation/reporting (multiple lines of evidence for micro-scale mobility)